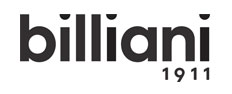 Billiani has been making chairs in Italy for well over a hundred years together with the most brilliant minds of Italian and international design.
Billiani started up in 1911 when Luigi, a carpenter, and his wife Delina, daughter of a chair maker from Mariano, opened a small factory in Manzano. At that time, although Manzano and Mariano were just ten kilometers apart, they were separated by the border between the Austro-Hungarian Empire and the Kingdom of Italy.
This is what characterized and still characterizes Billiani: a border crossing that was to become so very influential, a key to design, straddling tradition and experimentation; for production, whether on a small or industrial scale; for the products themselves, the applications of which overlap in contract and residential settings.