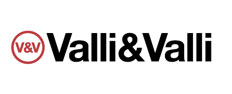 With a heritage spanning over 80 years, the Valli & Valli name has established itself as a market leader and a brand synonymous with world leading architects and inspirational cutting edge designs.
At Valli&Valli we aim to add a whole new dimension to design which will inspire and excite the senses through ranges that reflect the world we live in. Our designs are unique, and combine traditional elements with youthful interpretations of classics.
From chic minimalist to decorative and traditional, each piece of the Valli&Valli collections meets the high quality interior specifications which are a benchmark for architects, producing handles that are as creative as they are versatile.